During this COVID outbreak we are open for appointments only.
For measurements and suit/tuxedo orders in person, please call us, 507.454.6535.
Need a New Suit?
Purchase a new suit vs renting. We  have a full-line of designer Men's Suits for sale.
Starting at $149
Call to schedule a fitting 507-454-6535
 Own Your Own Designer Suit 
One of the hottest trends with Wedding Parties is having the Groomsmen purchase their suit or tux instead of renting them. We'll we make it affordable for everyone in your party to buy their own.
We carry The Gruppo Bravo brand and have a huge inventory of designer suits and tuxedoes all priced from $149 to $449. Contact us to see our full line of inventory (507) 454-6535 or email us at info@winonaweddingplanners.com.
When you order a shirt and tie suit packages are reduced $25 to $150 per suit. Fix Free Grooms Suit info to; Free Grooms Suit with 10-paid or 50% off with 5 paid.
Free Grooms Suit with 10 purchases or 50% off with 5 purchases.
Our Popular Designer Men's Suits
Get Your Formal Wear Shipped Directly to You!
With e-Tux your tuxedos arrive days before your wedding at your house or selected location. After your wedding, tuxedos are boxed in our postage paid tux box for shipment via UPS to our office.
Checkout these great benefits:
Measure your sizes and call the sizes in. (Learn how)
Free Groom Tux with 5 paid rentals
e-Tux Free Home Delivery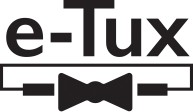 Ask for details when placing your order